Pelican Brackets
These shelf clamps are suitable for use with both our 2cm Piccolo and 3.5cm Mezzo shelves and come in brushed nickel or polished chrome. Fixings and instructions are included in each pack.
We recommend the use of two brackets for the first 100cm shelf length, with a further bracket for every additional 50cm.
To enable you to order exactly the right number of brackets for your shelves, all of our brackets are sold individually, not in pairs.
Size guide for 3.5cm: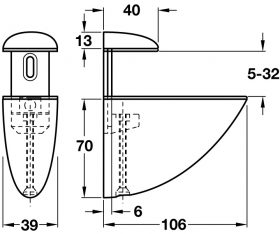 Size guide for 2cm: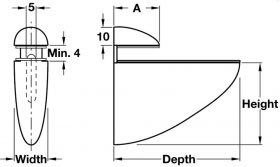 Introducing! Our new range of beautiful, handmade solid wood shelf brackets. Available in 4 styles and now with 50% off!
These shelf clamps are very simple to use and all the fixings and instructions are included in each pack.
Brackets are dispatched within 3-4 working days of order. For a limited time, we are offering free shipping to any mainland UK address.