Pelican Brackets
Following a long and very tiring year, we have taken a few weeks off to spend some time with the family and recharge our batteries, so our current lead times for orders has been extended. We will be closing on Friday 11th June and re-opening on Monday 12th July when production will re-start. We will process orders in date order and will get them made and dispatched as quickly as possible.
To thank you for your continued support, we have set up a special summer discount code giving you discounts on your order total; please see the banner at the top of this page for details of the discount code.
These shelf clamps are suitable for use with both our 2cm Piccolo and 3.5cm Mezzo shelves and come in brushed nickel or polished chrome. Fixings and instructions are included in each pack.
We recommend the use of two brackets for the first 100cm shelf length, with a further bracket for every additional 50cm.
To enable you to order exactly the right number of brackets for your shelves, all of our brackets are sold individually, not in pairs.
Size guide for 3.5cm: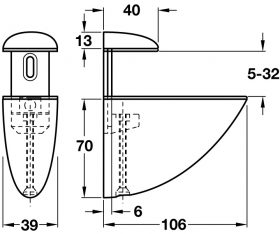 Size guide for 2cm: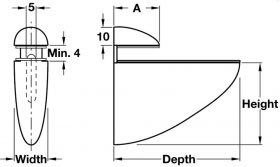 These shelf clamps are very simple to use and all the fixings and instructions are included in each pack.
Brackets are dispatched within 3-4 working days of order.